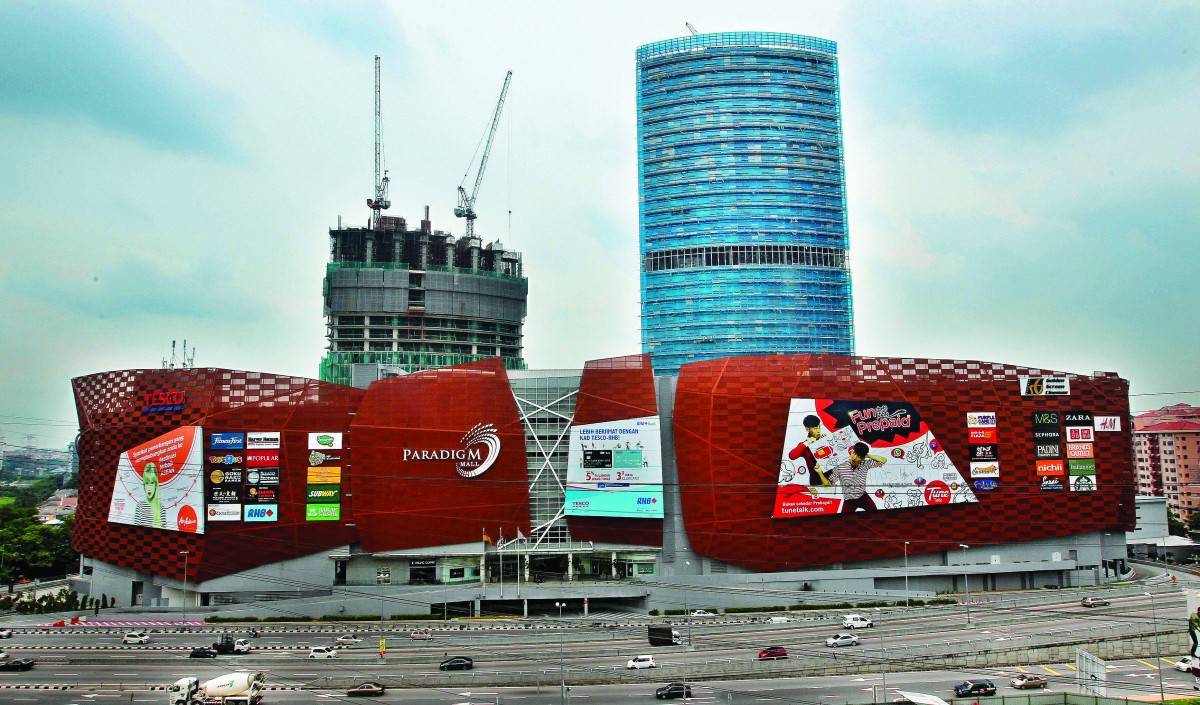 Businessman Tan Sri Desmond Lim Siew Choon is performing a corporate manoeuvre that may unlock value worth billions after emerging as the largest shareholder in WCT Holdings Bhd last Tuesday, say sources.
At the heart of Lim's plan is the injection of WCT's three shopping malls into Pavilion Real Estate Investment Trust (REIT), in which he and his wife, Tan Kewi Yong, together hold a 37.35% stake.
This will, in turn, help WCT clean up its balance sheet and lower its gearing ratio, which analysts believe will remove a persistent discount on the company's share price.
While WCT had previously mooted a possible REIT listing of its malls by the end of the year, injecting them into an existing REIT would prove faster and easier to accomplish.
Analysts have pegged a valuation of RM1.2 billion to WCT's three malls, namely Paradigm Mall in Petaling Jaya, AEON Bukit Tinggi Shopping Centre in Klang and [email protected] in Sepang. The group has another Paradigm Mall coming up in Johor Bahru that is scheduled to open next April, according to its website.
To recap, Lim got the market excited last Tuesday after he surfaced in WCT as its biggest shareholder with a 19.67% stake. His vehicle, Dominion Nexus Sdn Bhd, had acquired the shares in a direct deal from WCT Capital Sdn Bhd, which is the vehicle of WCT co-founders Peter Taing Kim Hwa and Wong Sewe Wing.
The acquisition price was not disclosed to Bursa Malaysia. However, Bloomberg data shows that several blocks of shares transacted at RM2.50 apiece last Tuesday, representing a premium of 42.85% to the stock's closing price of RM1.75 that day. At RM2.50 each, the transaction would have cost Lim a total of RM614.3 million.
Following the property tycoon's emergence in WCT, the company saw a boardroom shake-up with the old guard making way for Lim's new line-up.
In a flurry of filings with Bursa last Wednesday, WCT announced that Datuk Capt Ahmad Sufian @ Qurnain Abdul Rashid had given up his post as board chairman. Lim is taking his place as executive chairman with immediate effect.
Meanwhile, Taing has resigned as managing director, citing his cessation as a substantial shareholder of the group. Executive director Wong Yik Kae, who is Sewe Wing's son, has also exited the company to pursue personal interests, as has non-executive director Choo Tak Who.
Two independent, non-executive directors — Tan Sri Marzuki Mohd Noor and Datuk Abdul Wahab Khalil — have been named to the board, as has Datuk Lee Tuck Fook as non-independent, non-executive director.
Property developer Malton Bhd, in which Lim and his wife hold 35.34% equity interest via Malton Corp Sdn Bhd, also announced last Tuesday that Lim will be redesignated from executive chairman to non-independent, non-executive chairman from Jan 2. It cited Lim's entry into WCT as the reason he relinquished his executive role in Malton.
While the exact terms of the mall injection are unclear for now, a cash payment for the assets would be a boon for WCT, which has been saddled with high gearing and a capital-intensive property operation that has been dragging its cash flow.
As at June 30, WCT had total borrowings of RM2.73 billion, RM578.5 million cash and total equity of RM2.707 billion, which translated into a net gearing ratio of 0.79 times. The group burnt cash in four of six consecutive financial quarters up to June 30.
An analyst suggests that this may be why the stock is relatively undervalued despite jumping 5.9% the day after news broke about the emergence of a new shareholder. It closed at RM1.80 last Wednesday. Its price-earnings ratio (PER) that day was 10.92 times compared with its peers' average of 16.73 times, based on Bloomberg data.
Hong Leong Investment Bank and AmInvestment Bank ascribed a sum-of-parts (SOP) valuation of RM3.52 billion and RM3.98 billion respectively to WCT compared with its market value of RM2.25 billion at the close of trading last Thursday.
The SOP valuations translate into an implied share price of RM2.12 and RM2.38 each. This means Lim may have put a much higher valuation on WCT if he had indeed bought in at RM2.50 apiece on Nov 1.
The huge premium may also represent a carrot to WCT's co-founders to exit immediately rather than pursue a longer-term, value-unlocking strategy via the original REIT listing proposal.
One possibility is that the RM2.50 share price is the valuation Lim is eyeing when the dust settles on his upcoming plan to unlock value in WCT via Malton and Pavilion REIT. "Of course, there would be concerns [among the minority shareholders] over whether the valuation is fair," says an analyst.
Sources say following the injection of WCT's malls into Pavilion REIT, the next step could be to streamline Malton's construction business into WCT, which is far larger and has an established track record. For perspective, Malton's market capitalisation as at Nov 3 was RM302.7 million or just under 14% that of WCT.
WCT's construction order book stands at RM4.28 billion, a quarter of which is from its contracts totalling RM1.1 billion at the Petronas Refinery and Petrochemical Integrated Development project. Its construction arm saw total revenue of RM1.51 billion in the second quarter ended June 30 (2QFY2016), of which 58% were external sales.
In comparison, Malton's construction arm reported a turnover of RM503.7 million in 2QFY2016 — 57.4% of which was internal, meaning it was undertaking its own construction projects. With a common major shareholder in Lim, these construction jobs are likely to be fed to WCT, boosting the latter's construction business.
Streamlining the construction businesses under WCT would pave the way for Malton to focus on its property business, which is what the company is primarily known for.
Similarly, WCT's property division is relatively small compared with its larger operation as a group. In 2QFY2016, this segment accounted for only 14.7% of quarterly group revenue, although its contribution to operating profit was larger at 43.1%.
Analysts generally agree that it is still early days to tell how the minority shareholders will be affected by Lim's plan.
In a Nov 2 report, AllianceDBS Research says Lim's emergence has cast uncertainty on the future direction of the company until more details are announced. HLIB echoes the sentiment, saying a potential risk is a significant change in WCT's strategic direction.
Other analysts, however, feel that Lim's presence as a shareholder is an upside for WCT, given his successful Pavilion brand name, noted business acumen and reputation for deal-making. For now, this is a space to watch for Corporate Malaysia observers.
This article first appeared in The Edge Malaysia on Nov 7, 2016. Subscribe here for your personal copy.